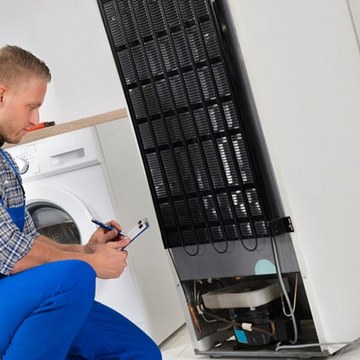 VIP Repair Services is ready to help you with any fridge issue you might be having. We are a local team of trusted appliance repair experts. Serving from Calabasas to Malibu, we provide the best refrigerator repair in Los Angeles. Our repairmen are skilled, licensed, and vetted to ensure that you get highly professional and reliable refrigerator help whenever needed.
Have an urgent request? Call us at +1 (888) 520-7994 or fill in our contact form on the right. We will call you back within an hour!
Types of our refrigerator repair
We work with both commercial and residential refrigerators and offer all types of refrigerator repair. Whether you have a small wine cooler or a restaurant freezer, we have specialists in every piece of cooling appliance existing. Here are the top fridges we work with daily:
Top/bottom freezer
French door
Side-by-side
Counter
Mini-fridges
Garage
Wine coolers and refrigerators
In-built and freestanding units
When to seek refrigerator repair?
Whenever your refrigerator stops producing ice or cannot keep the standard temperature; when your food gets spoilt faster or you begin hearing unusual noises, it is time to pick up the phone and search for a refrigerator repair on Yelp. Getting a repairman right after you spot a problem can save you a lot of money because by postponing repairs you only get closer to the complete replacement of a refrigerator.
Should you feel that something is wrong with your fridge but be not completely sure that repairs are needed, do not hesitate to get our refrigerator repair service near me; our team will come to your home for a free estimate and clarify what kind of issue you are having and how urgent the repairs are. In this way, you will be able to plan your budget and time and book a suitable date for repairs.
Where to find refrigerator repair near me?
Being primarily located in LA, over the years we have expanded our operational area. Today the following cities and the territories between them are also included in our services:
Culver City
Santa Monica
Studio City
West Hollywood
Bel Air
Calabasas
Hollywood Hills
Beverly Hills
Malibu
With VIP Repair Services you get professional, reliable, and licensed refrigerator repair in Los Angeles at a fair price. Urgent or not, our repair team is ready to rescue you 24/7.
Why my refrigerator isn't cooling?

First thing to do to make sure that all your supplies will be in the cool place. Could several problems, so better to call the specialist to diagnose the problem.