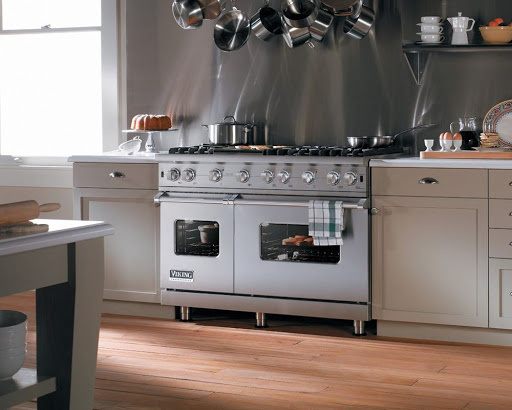 At VIP Repair Services we aim for resolving any Viking repair problem you might have. We are a team of certified technicians that always come on time and fully equipped to complete the required Viking repair in Los Angeles on the first visit. We specialize in every make and model of Viking appliances, so whatever the issue is, we know we can help.
If you are looking for an authorized Viking appliance repair technician who would use only original parts, call VIP Repair Services at +1 (888) 520-7994 and book your first appointment with us!
Authorized Viking Appliance Repair in Los Angeles
The Viking Company has been in the market of home appliances for more than 30 years. It has proven to be a reliable and luxurious element of any kitchen and home interior design. However perfect the units are, Viking appliances still require maintenance and repairs to stay effective. In our offer for Viking appliance repair we can fix:
Viking Refrigerator
Viking Grill
Viking Stove
Viking Range
Viking Oven
Viking Wine Cooler
Viking Ice Maker
Viking Dishwasher
Viking Microwave
Whether you have an old-school Viking oven or a newly-released dishwasher, our team has knowledge and experience to fix any Viking piece. Moreover, our technicians will come to your call with a truck full of replacement parts and professional equipment to ensure that every issue of yours is fixed upon the first visit of the team.
When to Search for Viking Appliance Repair Near Me
While we strongly recommend timely maintenance of the Viking appliances, from time to time Viking appliance repair service is needed in every household. The rule of a thumb is to call for professional help when you spot unusual noises, leaking fluids, unpleasant smells, and loose elements in your appliance pieces. At this point, a minor intervention can save the day while postponing the call for Viking repair in Los Angeles might lead to the major spending.
Service Area of Viking Authorized Repair in Los Angeles
Having the central office in the heart of LA, we know that Viking repair service is needed throughout the LA metropolitan area. This is why you can also find our smaller representatives in:
Culver City
Studio City
Calabasas
West Hollywood
Hollywood Hills
Beverly Hills
Bel Air
Malibu
Santa Monica
In need of professional Viking appliance repair in Los Angeles? Call VIP Repair Services +1 (888) 520-7994 and set up an appointment with our team.