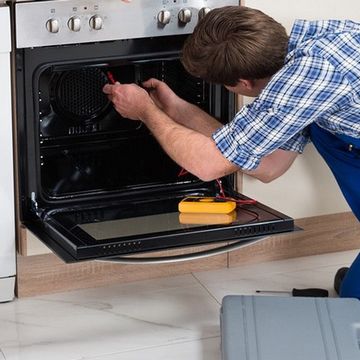 Our VIP Repair Services are serving Los Angeles and its area to ensure you don't waste your money but pay for the quality and warranty when it comes to stove / oven repair. Whatever the problem is, our technicians are ready to save the day. Any kind of stove or oven malfunctioning in your home, restaurant, or industrial kitchen is fixable. Give a call to our VIP Repair Services and we will provide top-notch oven repair!
Top signs you need stove and oven repair
Here are the most common and easy-to-spot signs that an oven or a stove needs a professional touch. Do not postpone getting a gas stove repair because delay in repairs may cost you a lot more – replacement of the whole piece! Pay attention to the following signs:
The unit is not heating or holding the set temperature.
The unit is overheating all the time and would not turn off.
The stove sparked and nothing happened.
The oven does not reach the proper temperature.
You cannot turn on the control panel on an electrical stove or oven.
The oven doors are loose.
The gas burner is not igniting.
Even with a stove or oven shut down, you smell gas.
Especially when you smell gas with the completely turned off unit, you need to seek emergency gas oven repair! Gas leaking may pose serious danger to all the house residents!
The best oven and stove repair in Los Angeles
Our repairmen are certified and qualified to perform oven and stove repair. We can handle units of all sizes, makes, modes, and brands. Moreover, here is a list of ovens and stoves you can entrust us with:
Ovens

Stoves

Electric
Gas
Conduction
Convection
Self-cleaning
Microwave
Roaster
Toaster
Grill

Electric
Gas
Electric coil
Induction
Downdraft
Pellet
Modular
Where we offer our stove and oven repair
Don't live in Los Angeles? Maybe you are from Culver City or Hollywood Hills? Don't worry! We also operate in:
Hollywood Hills
Studio City
Calabasas
Santa Monica
West Hollywood
Bel Air
Beverly Hills
Malibu
Got a question about your stove? Or want to book a date with our team for stove and oven repair? Pick up your phone and call us at +1 (888) 520-7994 today or fill in our form and we will contact you within one business hour!