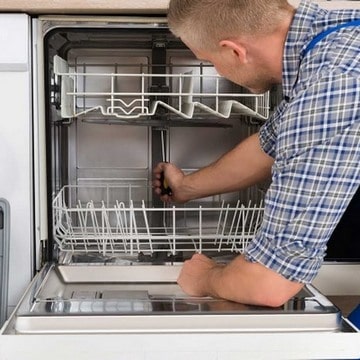 Should you spot leaking, issues with the dishwasher programs, or any other disturbing sign of breakdown, call for dishwasher repair with VIP Repair Services. A malfunctioning and leaking dishwasher causes not only discomfort from a broken piece of appliances but may also cause severe floor and cabinet problems. At VIP Repair Services, we have a team of factory-trained technicians with decades of experience and certification to prove it. Our company offers a dedicated service of outstanding quality for anyone in Los Angeles and area. If you need an expert you can trust, here is our phone number +1 (888) 520-7994.
Top signs you need dishwasher repair
Leaks coming from beneath the dishwasher or during the active program
Uncommon noises when the unit is running or during the drying period
The dishes remain dirty
There are dispensing stains on the dishes
The dishes are not dry after the full cycle
The dishwasher would not turn on
The sealing on the doors is broken
The doors fall to the ground when opened
The door latch is broken
There are obvious signs one may spot when using a dishwasher. However, if you spot any other discrepancies that might alert you, do not hesitate to call our team for dishwasher repair or maintenance. We can come to your home and check your dishwasher.
Professional dishwasher repair or maintenance
We work with the most popular brands: from LG, Whirlpool, and Simens to Wolf, Miele, and Bosch. Owing to the close cooperation of VIP Repair Services with the brands, we have manuals for all existing models and makes of dishwashers, so we can repair any item you have in the kitchen. Should you need help with industrial and commercial dishwashers, give us a call! We have a team of dedicated experts for such cases.
Professional dishwasher repair near me
Yes, you read it right, VIP Repair Services offer near you solutions in the Los Angeles area. Here is a list of cities we can help you in:
Calabasas
Culver City
Studio City
West Hollywood
Beverly Hills
Hollywood Hills
Bel Air
Santa Monica
Malibu
Residential, commercial, private, and business-contract dishwasher repair in Los Angeles is all on our offeк. Call us today at +1 (888) 520-7994 and forget about the problem by tomorrow!