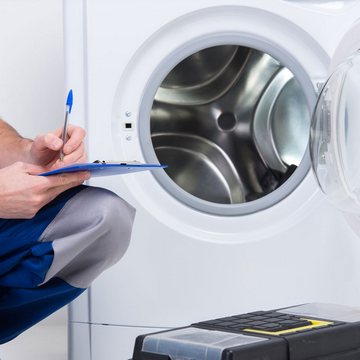 When the washer does out, don't collect the coins for the laundromat, call for washer and dryer repair guru in Los Angeles CA – VIP Repair Services. Our team is dedicated to minimize the chaos in your home, fix your washer or dryer, and bring your life back to normal. We are tech-savvy, licensed, and experienced technicians who come to your home at first call and repair breakage of any complexity on the first visit. Whenever you are looking for an expert washer and dryer repair, call us at +1 (888) 520-7994.
When to call for washer and dryer repair?
Both of the appliance pieces have some evident signs that a repair is needed. Pay attention to your units and if you spot the problems described below, call in for washer / dryer repair to at least investigate the cause of your suspicion.
Washer does not spin
Washer does not spin drain
Washer does not go through the full cycle
Water us extensively supplied to the washer
Uncommon noises come from the washer
The washer would not start
Dryer does not heat up
The drying time is prolonged
The clothes are not dried at all
A loud squeaking noise comes from the dryer
The unpleasant burnt smell comes from the dryer
Reliable dryer and washer repair
We provide a qualitative dryer and washer repair for appliances of all makes, models, and manufacturers. Most often, we repair Whirpool, Maytag, and Samsung but if you have any other brand, we do have experts for any brand in the market. We offer washer repair for the front-, traditional / high-efficiency top-loading, and semi-automating units as well as vented, condensing, and heat-pump dryer repair. Should you have a mixture of both or a whole laundry business that needs a regular team on call, our experts in washer and dryer repair can help solve these requests as well.
Where we are located?
Here is a shortlist of the cities. Call to learn more about our complete service area:
West Hollywood
Malibu
Studio City
Culver City
Hollywood Hills
Calabasas
Beverly Hills
Bel Air
Santa Monica
Whether you need industrial, commercial or residential help in washer / dryer repair at VIP Repair Services we are ready for you every day and minute. Emergency, maintenance repair, or just a condition evaluation, call us today and get it done by tomorrow!